To help get you inspired, we 've put together some of our front-runner easy-to-make DIY Christmas ornaments. Salt dough Christmas ornaments are superintendent fun to make and the kids will love getting their hands messy helping out. With then many DIY Christmas decorations and options to choose from, you 're bound to find something that suits your taste. From options that are arrant for bumpkinly trees, like bantam ornaments made of intertwine, to modern, metallic cadaver ornaments and even Christmas cookie ornaments, there 's a Christmas craft in here for everyone. so if you 're looking to add a kink to your tree this class, we suggest you take a peek at some of these homemade ornaments. When it 's time to trim the Christmas tree this year, we know that you will want to grab your tried-and-true ornaments that you have been using year after year, and for good cause, the memories they hold are invaluable. And while they 're a surefire way to spruce up your, well, spruce, we think DIY Christmas ornaments can be good as meaningful. ( particularly if you can turn making handmade ornaments into a playfulness Christmas activeness for the family and create memories together ! ) Whether you 're already in the vacation liveliness and ca n't wait to get to work, or want to hold off on making them until you 've picked out your tree, there 's never a incorrect clock to start thinking about what homemade Christmas ornaments you want to create this season .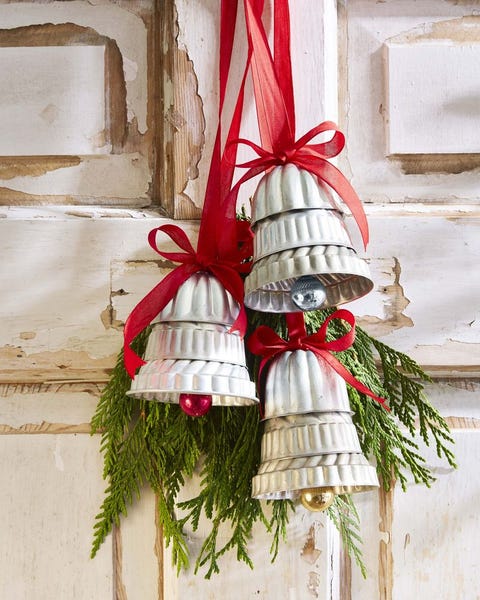 Becky Stayner
1
of 69
Mini Bell Ornaments
Hang these pretty ornaments on your front door or drape on your tree. To make: Stack miniskirt molds and Bundt pans to form bell shapes ; affix in concert using epoxy. Hot-glue modest ornaments to the bottom to create the clappers. Glue ribbon loops and a bow to the top for hanging. Add a loot of greenery, if desired .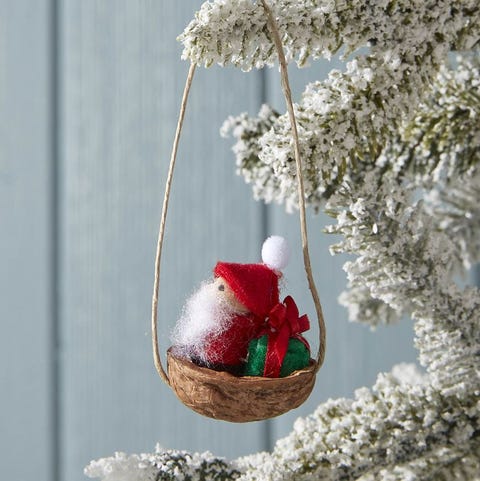 Brian Woodcock
2
of 69
Mini Santa Sleigh Ornament
Santa will delight all who spy him on the tree in his miniskirt walnut shell sled. To make: Draw eyes on the face of a small wooden peg dame with a fine-tip black marker. Wrap the body of the dame in crimson feel, holding it in stead with hot glue. Create a small hat from red palpate, gluing it to the doll 's head with hot glue. Attach a mini pommy pommy to the hat. Cover a miniskirt wooden cube in green feel, holding it in place with harbor glue. Tie a decoration around the portray. Drill modest holes on either end of half of a walnut blast. Thread a piece of slender twist through each hole, securing it on the at heart of the carapace with hot glue. Knot the intertwine at the top for hanging. Use hot glue to secure Santa and the present in the carapace .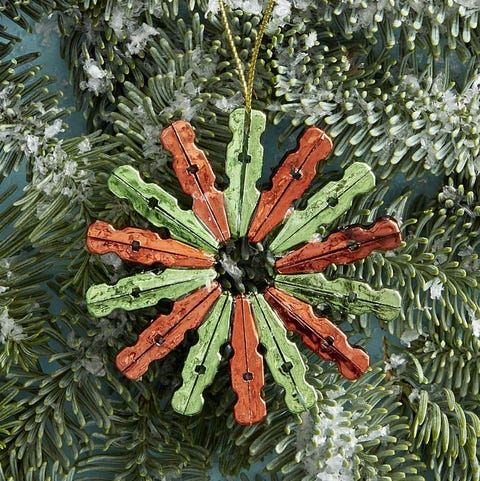 Brian Woodcock
3
of 69
Clothespin Ornament
Turn a classical area detail, the clothespin, into a sweet Christmas ornament. Our version is made with mini clothespins, but you can use the regular size variety show if you prefer. To make: Remove the springs from 14 mini clothespins. Turn the pieces from each clothespin around and glue them back to back. Glue the pins in concert to create a circular shape. Glue a firearm of gold twist to one pin for hanging .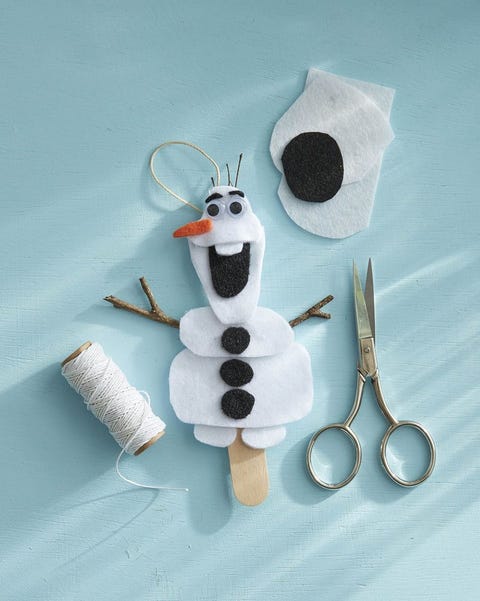 Brian Woodcock
4
of 69
Felt Olaf Ornament
Kids love Frozen, and this decoration will surely get them dancing around the tree signing " Let It Go " again and again ( regretful parents ! ). To make: Cut torso shapes from white feel ; attach to a spit depressor with hot glue. Cut buttons, mouth and eyebrows from black feel ; attach to consistency with hot glue. Glue mini googly eye below the eyebrows. Cut a carrot nozzle from orange felt ; attach below the eyes with hot glue. Glue mini twig arms and a patch of intertwine for hanging to the tongue depressor .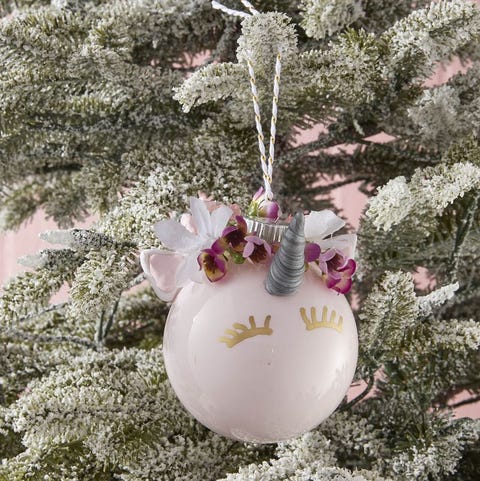 Brian Woodcock
5
of 69
unicorn Ornament
Delight the kids and grandkids with this sweet and friendly DIY unicorn decorate To make: Remove the hood from a glaze or plastic ball ornament. thinly water system down a belittled sum of fall pink acrylic paint. carefully pour the paint in the open of the decorate. Rotate the decorate until the at heart is amply covered with paint ; pour out surfeit. Allow to dry then reattach cap. Press desired color sculpting clay into a silicone unicorn mold to create ears and horn ; allow to dry completely. Attach a miniskirt unicorn horn, ears, and fake flowers with hot glue. Draw eyelashes fair below the horn with a aureate paint playpen .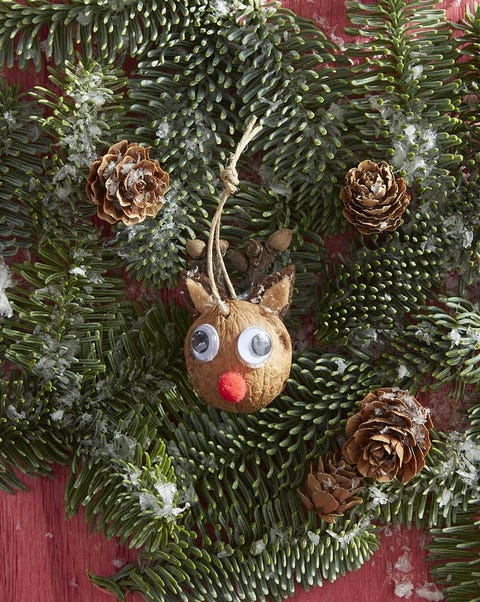 Brian Woodcock
6
of 69
Walnut Rudolf Ornament
Greet Santa with this fresh and friendly faced Rudolph ornament. His glistening loss nose will lead Santa right to the cookies you left under the tree. To make: Drill a minor trap toward the top of a half of a walnut beat. Attach mini googly eyes, a mini crimson pommy pommy, and brown felt ears with hot glue. Thread a slice of twine through the hole and knot .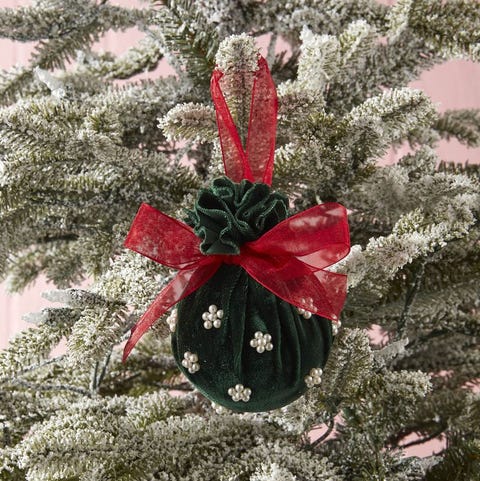 Brian Woodcock
7
of 69
Velvet Wrapped Ornament
elegant and so simple, this DIY only takes 4 supplies to complete. To make: Cut a square of velvet fabric. Wrap around a ball decorate, cinching it at the top. Tie a firearm of decoration around the cinch to hold close and create a hanger. Tie a bow from the lapp decoration and attach with hot glue. Attach humble bone craft bead with hot glue .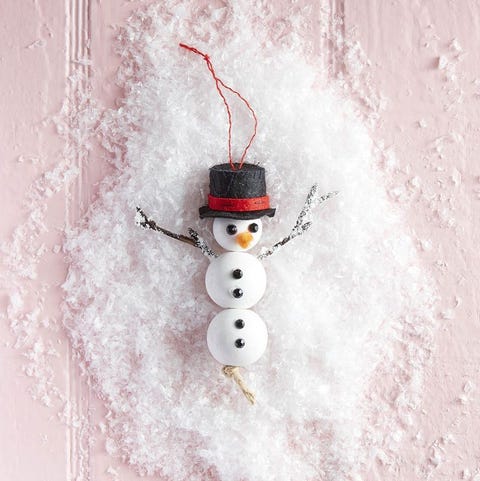 Brian Woodcock
8
of 69
Wooden Bead Snowman Ornament
We promise this gratifying DIY Frosty won ' t melt while he hangs on your tree this holiday season. To make: Paint three wooden trade beads with white acrylic paint. When dry ribbon a assemble twist through the holes of the beads and knot to hold in concert. Attach two black gem mini crystal rhinestones for the eyes and four for the buttons with hot glue. Snip a unretentive length of orange feel and attach good below the eyes with hot glue. Attach stick arms to the side of the middle bead with hot glue. Flock arms, if desired. Wrap a thin duration of red feel to a with hot glue. Glue a string to the top of the hat for hanging. Glue hat to snowman ' randomness head .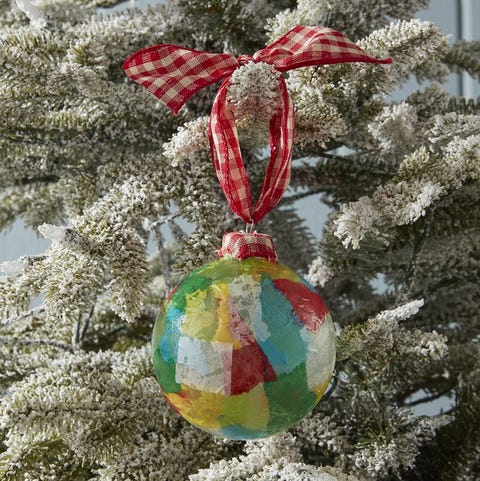 Brian Woodcock
9
of 69
Decoupaged Tissue Paper Ornament
vitamin a elementary as tear and gluing this sweetness and colorful ornament will take longer to dry than it does to make. To make: Tear colored tissue wallpaper into small pieces. Attach to a well-defined field glass or formative ball ornament with glossy Mod Podge. Attach a small part of ribbon or framework over the ornament cap. Hang to dry .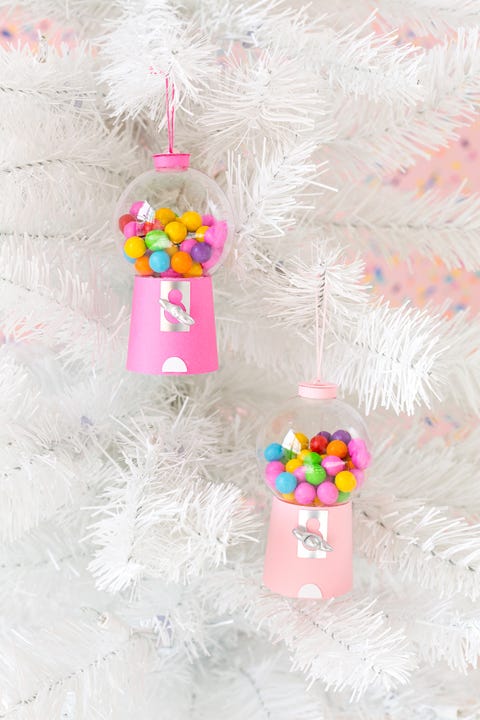 Aww Sam
10
of 69
Gumball Machine Ornaments
Turn a acquit, complain decoration into a brilliantly graphic mini gumball machine, accomplished with bantam candies ( or pom poms if you prefer ). People will be amazed that you made these cute replica ! Get the tutorial at Aww Sam.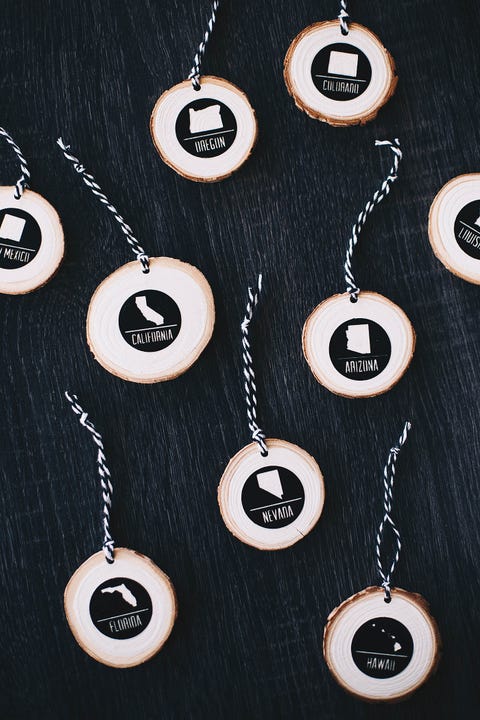 All for the Memories
11
of 69
Wood Slice State Ornaments
Celebrate your family 's travels with these ornaments that have painted state decals on each wood slice. We think these besides make the perfect give for friends or family who travel often—and it does n't have to be limited to states ! Get the tutorial at All for the Memories.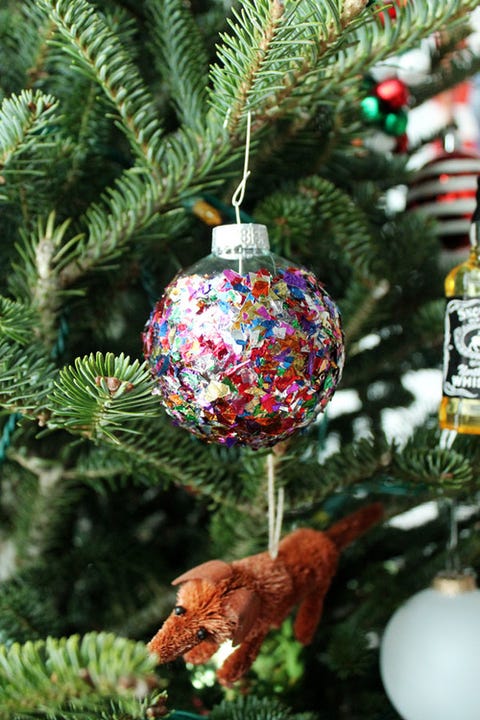 Unusually Lovely
12
of 69
confetti Ornaments
For that extra flashiness on your Christmas tree, these confetti ornaments would make a twinkle addition. You lone need four items to make these ornaments, which would make a arresting endowment to others or to yourself ! Get the tutorial at Unusually Lovely.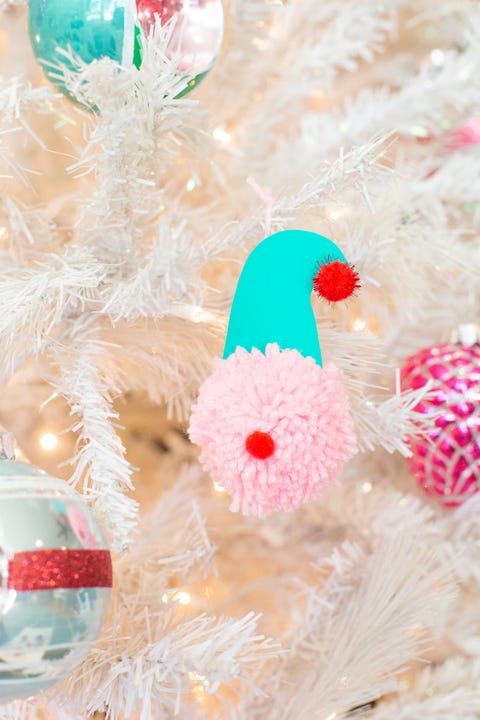 Lovely Indeed
13
of 69
Pom-Pom Christmas Character Ornaments
Make your own pom-pom-tastic Santas, caribou, elves, and more with these adorable ornaments. The instructions include steps to make your own pom-poms besides ! Get the tutorial at Lovely Indeed.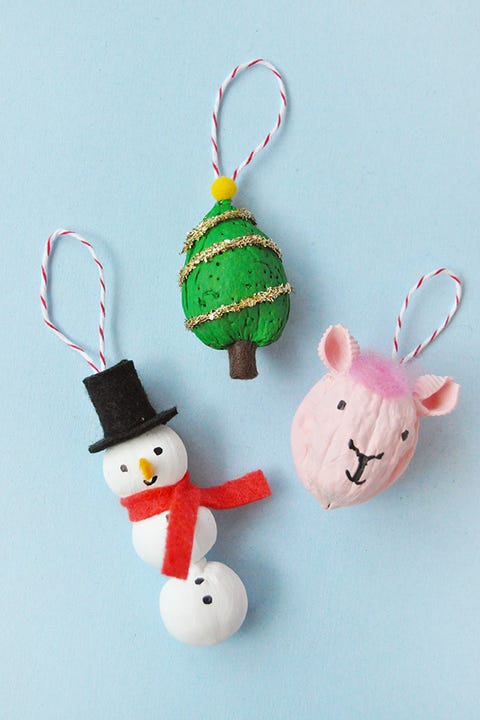 Handmade Charlotte
14
of 69
Painted en Ornaments
nothing says Christmas more than snowmen, decorated trees, and … llama ? Why not ! Your kids will love painting these cute ornaments made out of assorted nuts. Get the tutorial at Handmade Charlotte.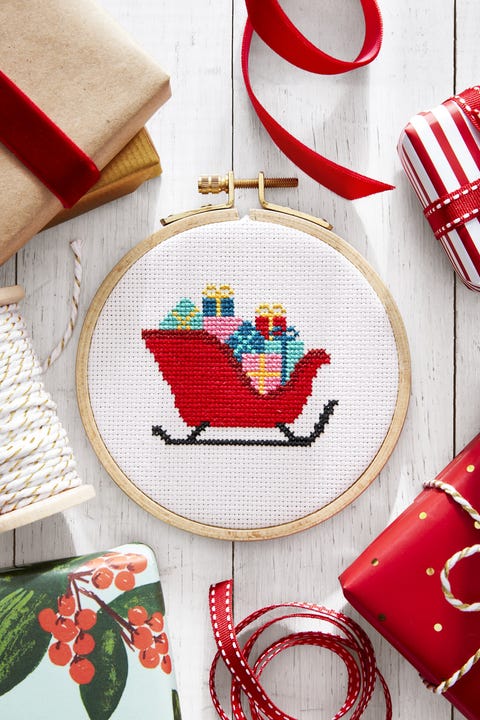 BRIAN WOODCOCK
15
of 69
DIY Cross-Stitched Sleigh Ornament
What 's more charm than a handmade ornament ? One featuring a delightful Christmas scene, of path ! This sled piled with presents fills the bill. Get the pattern.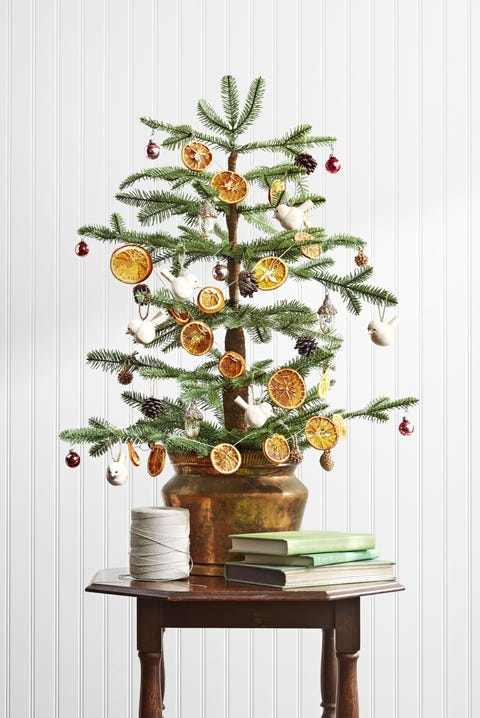 BRIAN WOODCOCK
16
of 69
DIY Dried Citrus Ornaments
Citrus ornaments look about like stained field glass when the light shines through them. To string your own strand, all you need are navel and blood oranges, parchment wallpaper, two cookie sheets, jute or natural intertwine, a skewer or nail, and cosmetic hooks. Make the Ornaments: 1. Preheat oven to 250°F. 2. Cut oranges crosswise into 1/4-inch slices ( four oranges make a six-foot garland ). 3. Line cookie sheets with parchment newspaper. Pat orange slices dry with composition towels, and place them on cookie sheets in a single level. 4. Bake for approximately 3 hours or until dry. ( To ensure the slices dry flat, turn them over at the midway mark. ) Remove from oven. 5. Using a skewer or breeze through, poke two holes into the top of each orange slice. 6. string wind through each hole, evenly spacing the oranges on the florilegium. Tie off each end with a loop, and hang from hooks. SHOP DRIED ORANGE SLICES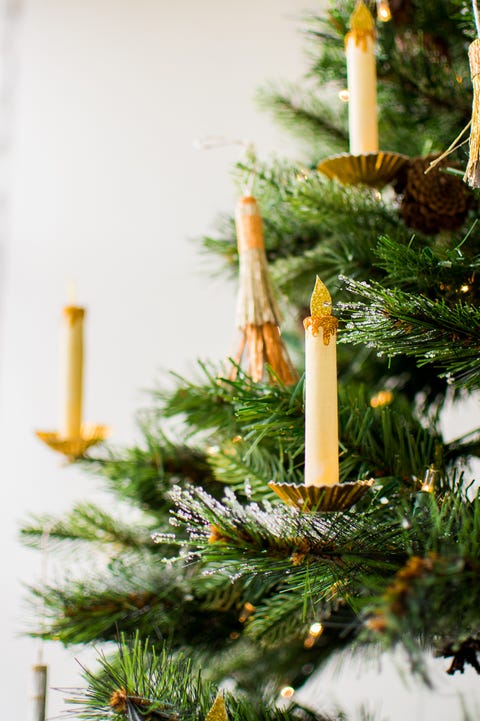 CLARA SUMSION / The House That Lars Built
17
of 69
DIY Paper Candle Ornaments
These dateless newspaper ornaments about look like real candles from a distance. fortunately for parents of little children though, these ones are far less dangerous. Get the tutorial at The House That Lars Built.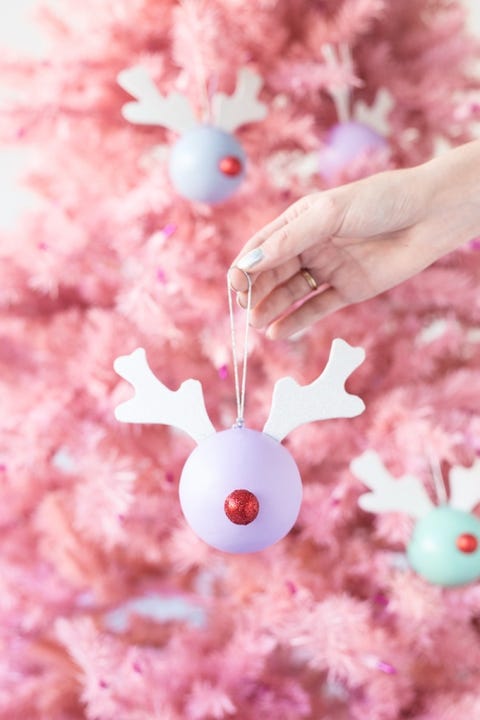 Studio DIY
18
of 69
DIY Rudolph Ornaments
We love this idea for ornaments—but they 'd make for super-cute gift toppers excessively. Make more than one, and you 've got yourself an entire herd of pastel-colored caribou. Get the tutorial at Studio DIY.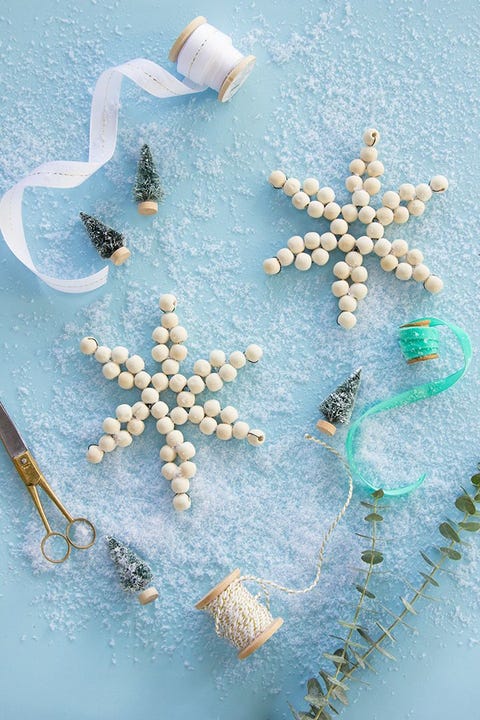 Alice & Lois
19
of 69
DIY Wood Bead Snowflake Ornament
These agrestic ornaments feature monochromatic intertwine and simple wooden beads. Whether your style is glam or a little less flashy, they 'll look fantastic on your tree. Get the tutorial at Alice & Lois.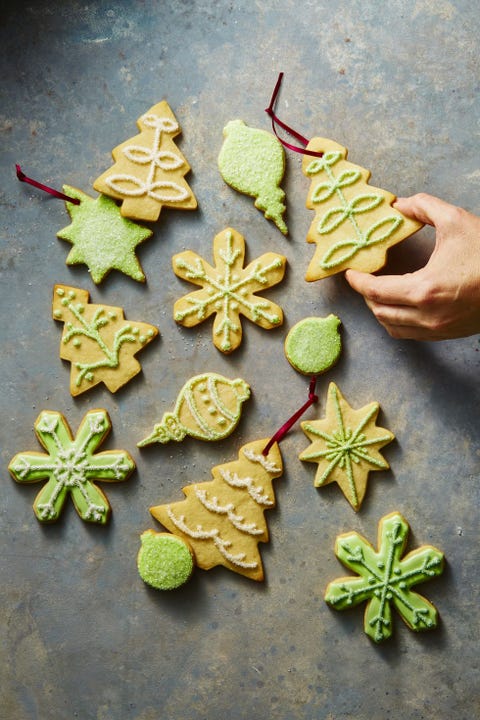 Mike Garten / Good Housekeeping
20
of 69
DIY Sugar Cookie Ornaments
The best part of baking up a batch of " ornament cookies " is forgetting they 're for the tree—oh, and nibbling on a few. ( We wo n't tell ! ) Get the tutorial at Good Housekeeping.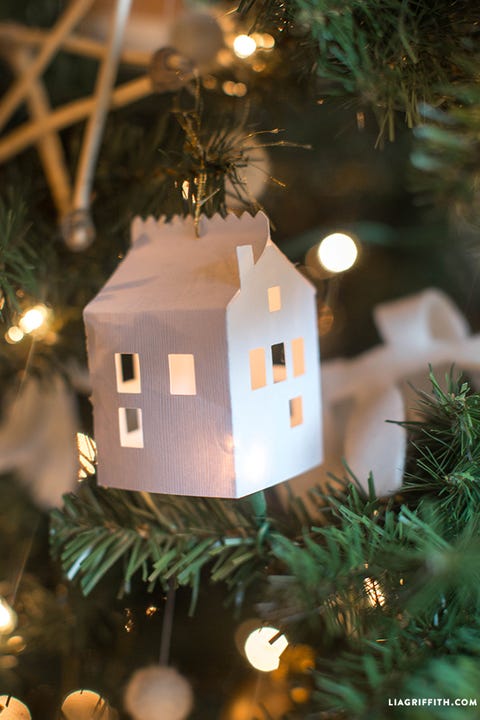 Lia Griffith
21
of 69
DIY Paper House Ornaments
These bantam paper houses are excessively cute. Hung from a well-lit tree, they 'll quickly add coziness and warmth to any live board. Get the tutorial at .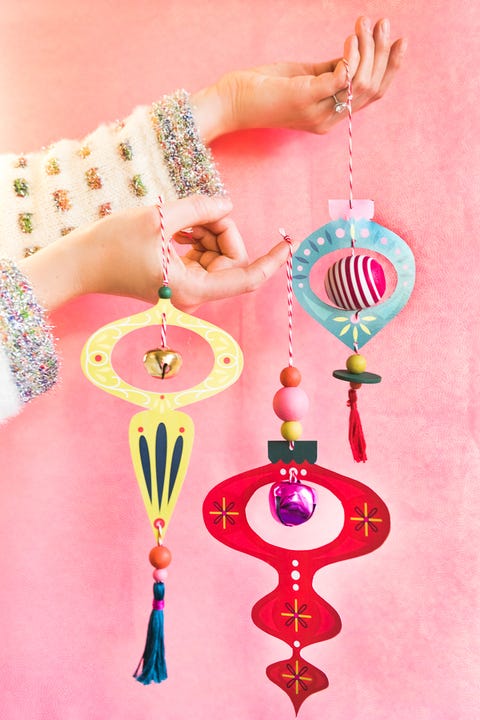 Jane Merritt / The House That Lars Built
22
of 69
printable Retro Ornaments
Wooden beads and embellishment floss bring these chic ornaments to life. They 're just arsenic beautiful as their vintage counterparts—but way less expensive ! Get the tutorial at The House That Lars Built.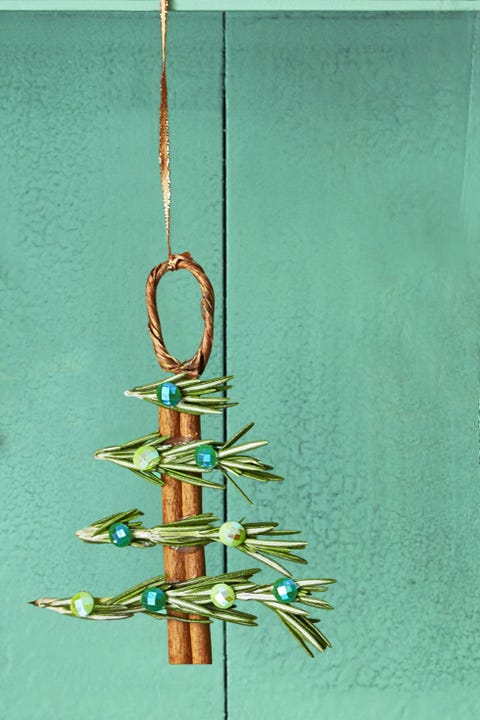 Mike Garten / Good Housekeeping
23
of 69
DIY Cinnamon Stick Tree Ornament
not merely does this easy-to-craft decoration expression pretty, but it besides smells capital ! Hot glue brings together rosemary, cinnamon sticks, and gemstones for a gay and attention-getting concluding expression. To make: Bend a 30 " piece of naturally coiled wrapped wire in one-half to form a loop, then lightly push each end into the hollow function of a cinnamon stick. Use hot glue to attach cut sprigs of fresh rosemary for branches and small gems for ornaments.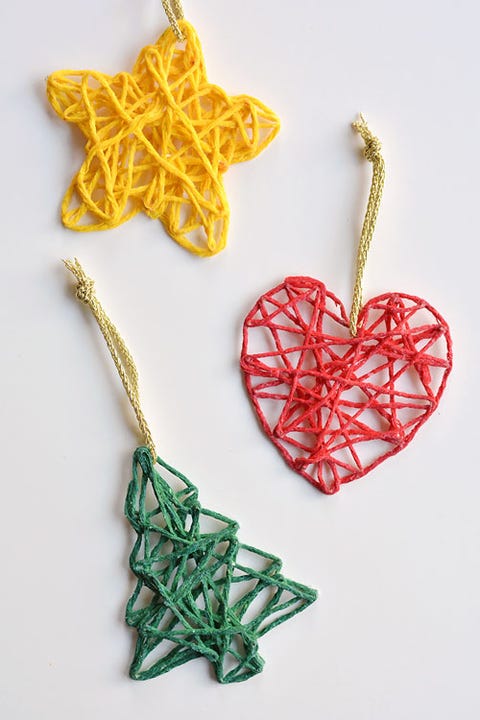 One Little Project
24
of 69
Wrapped Yarn Ornaments
What we love most about these colored DIY ornaments is that you can make them year-round. For Christmas, use green thread to create a tree. Feel like getting crafty on Valentine 's Day ? We 're loving this cordate translation. Get the tutorial at One Little Project.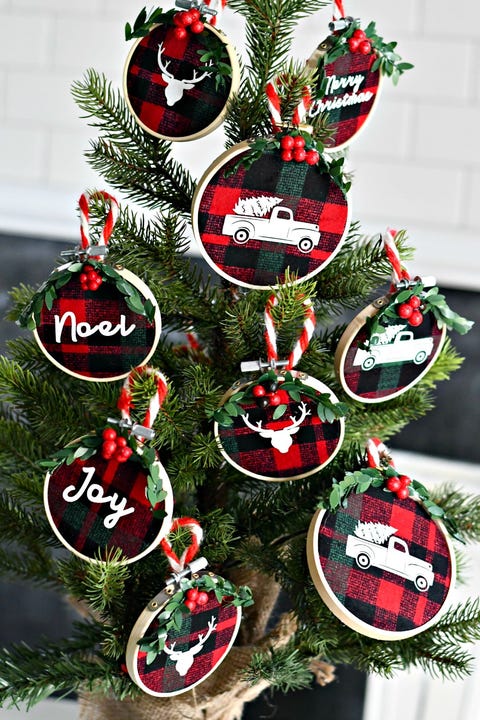 Hip2Save
25
of 69
Flannel Embroidery Hoop Ornaments
There 's something about washcloth that has the give voice " Christmas " written all over it—so what better framework to incorporate into your ornaments ? For another agrestic touch, add your darling iron-on decals. Get the tutorial at Hip2Save.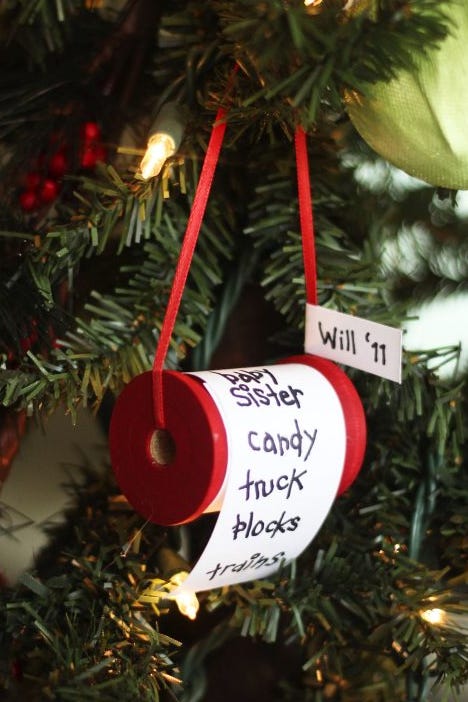 Honeybear Lane
26
of 69
Christmas List Ornament
Chances are, your kids already have their christmas lists put together, which makes this decorate flush more timely. Have them write down what they want on a thin tabloid of paper and wrap it around a bobbin to create this personal decoration. Get the tutorial at Honeybear Lane.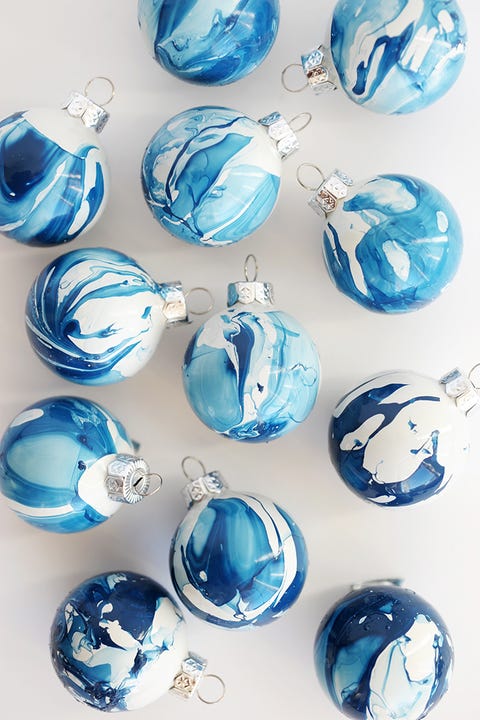 Alice & Lois
27
of 69
Blue Marble Ornaments
Looking for a mod addition to your Christmas tree ? We suggest these reasonably marbled ornaments. Feel free to go for an arctic feel with this cool aristocratic hue, or you can choose a seasonal worker red and green color palette. Get the tutorial at Alice & Lois.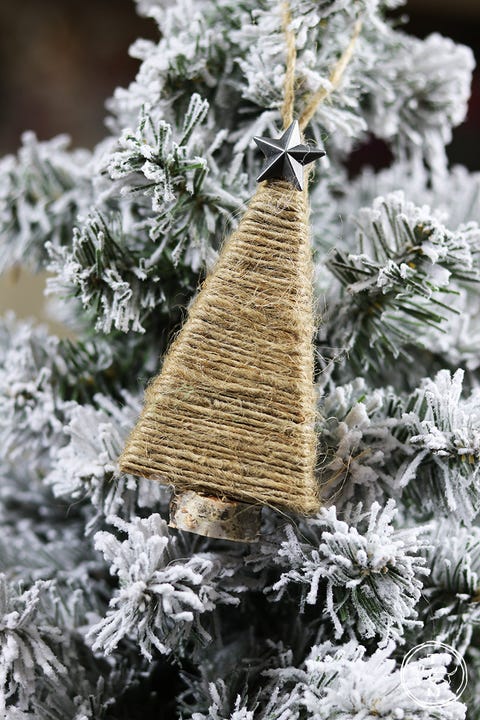 The Cottage Market
28
of 69
Twine Tree Ornaments
For those who love a farmhouse aesthetic, it does n't get any better than these mini Christmas trees made from intertwine and alloy. They 'll give any tree a wholly rustic feel. Get the tutorial at The Cottage Market.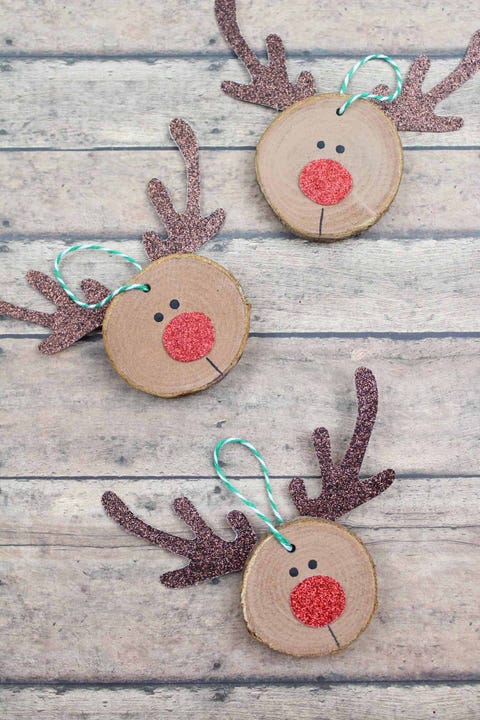 The Inspiration Edit
29
of 69
Wooden Rudolph Ornaments
It 's a crack to make these cute Rudolph ornaments—plus, their bubbling bolshevik noses will look so reasonably following to your twinkle lights ! Get the tutorial at The Inspiration Edit.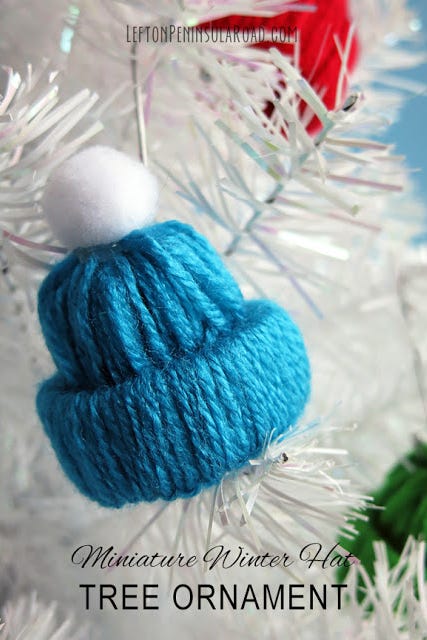 Left on Peninsula Road
30
of 69
Mini Winter Hat Ornaments
When the weather gets colder, make sure your corner stays warm with these mini winter hat ornaments. All you need is narration and pom-poms to create these cute decorations. Get the tutorial at Left on Peninsula Road.