Easy Creamy Mashed Potatoes Recipe full flavoured with butter, sour cream, garlic and parmesan cheese. Perfect for the any time of the year!
With a postpone wide of food, the most love and devour foods are side dishes. specifically, these Easy Creamy Mashed Potatoes. The secret to this grind though is not an abundance of butter, but SOUR CREAM ! Half butter, a good sum of sour cream and HOT MILK make the most perfect and best Creamy Mashed Potatoes !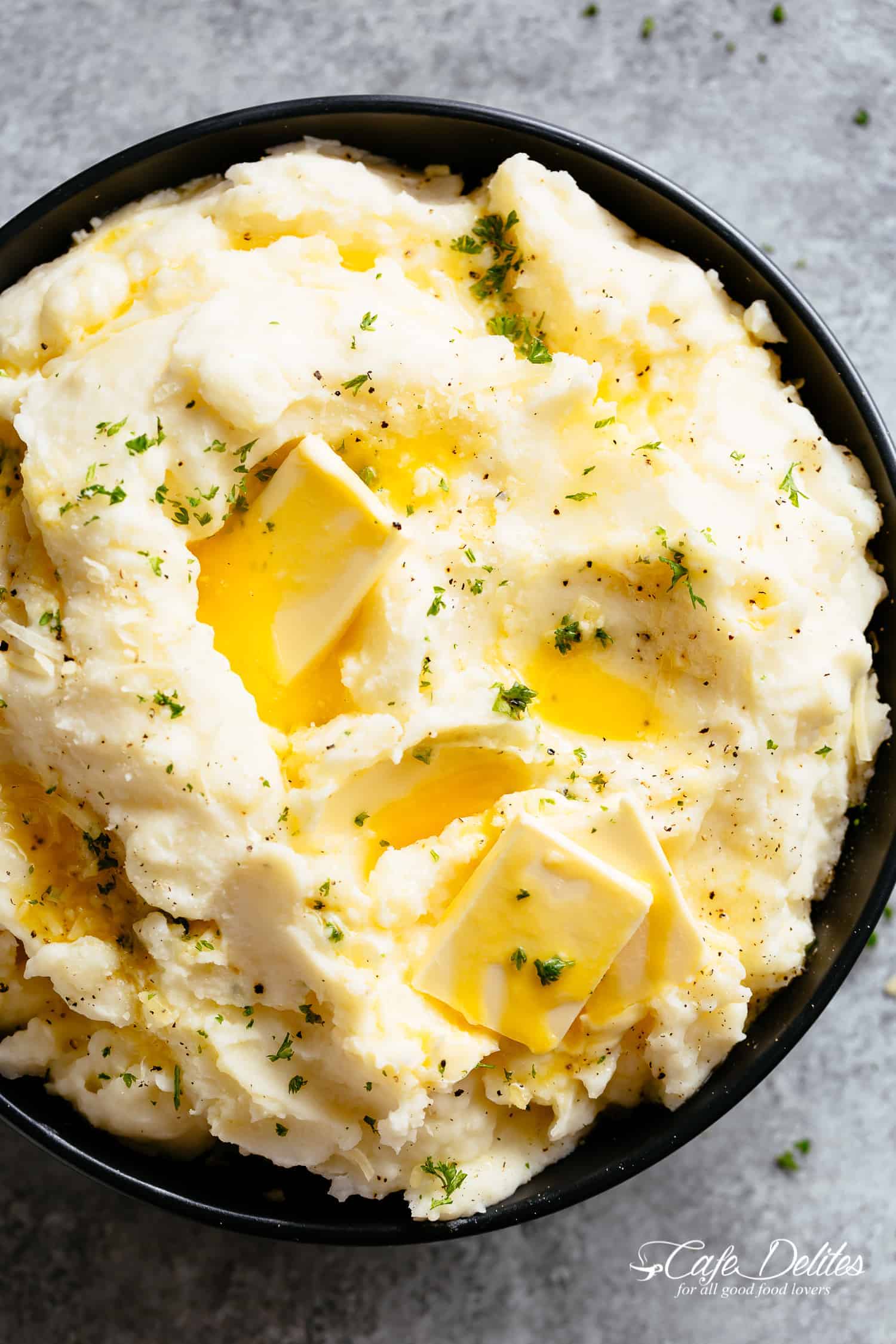 MASHED POTATOES
Perfect for any juncture, whether it be after a feverish day at influence, or a gay dinner like Easter, Christmas or Thanksgiving ! With only 5 main ingredients, you guys will love these fair angstrom a lot as we do !
These creamy mashed potatoes have been in our family for years. We don ' metric ton normally measurement anything, thus imagine how heavily it was to add ingredients while measuring them at the same time to make certain I could give you guys the BEST potatoes of your life.
WHAT GOES IN HOMEMADE MASHED POTATOES?
Make sure you start with the best potato possible. In America, go for Yukon golds or Russet potatoes. In Australia, choose Dutch Creams, Creme Gold or Creme Royale.
Salted water for boiling — not adding salt to the water will yield bland tasting potatoes.
Softened unsalted butter — using unsalted ensures you have full control of how salty your mash comes out.
Sour cream — makes them EVEN CREAMIER when compared to regular potatoes.
Garlic — use fresh where possible.
Fresh shredded parmesan cheese — adds incredible flavour.
Hot milk — why hot milk? To ensure your potatoes are still warm after mashing.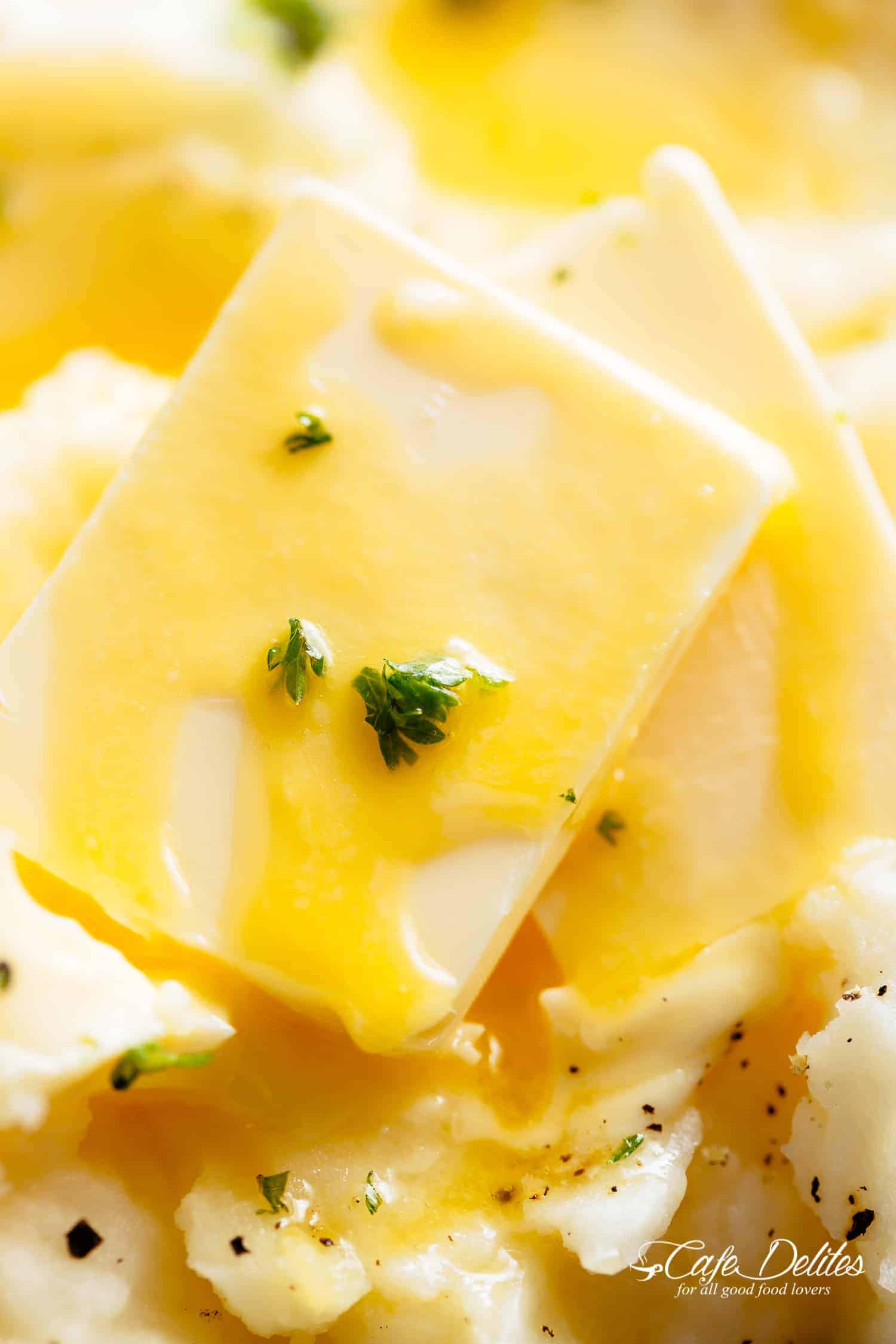 HOW DO YOU MAKE THE PERFECT MASHED POTATOES?
Cut your potatoes into the same size pieces to ensure they all cook evenly and at the lapp time .
Boil  potatoes in salt water system until JUST fork-tender. Try not to over cook excessively much as they can become quite awkward or gluey when overcooked .
Sauté garlic in some butter until fragrant .
Drain potatoes and add in the hot milk, cooked garlic, remaining butter and sour cream .
Mash the potatoes with a potato masher until smooth, adding a little excess milk if needed. You can besides use an electric handwriting mixer beaters to ensure a legato consistency. Beat just enough for them to smooth out while being excess careful not to over beat as they may become gluggy .
What can you add to mashed potatoes?
You can add about anything and they will taste amazing ! Some optional ingredients :
Onions : green onions, shallots, crimson onion ( again, add to the water with the potatoes and cook together ).
Chives
Fresh herbs like thyme, parsley or rosemary
Cream cheese
Bacon

WHAT TO SERVE WITH MASHED POTATOES?
Garlic Herb Butter Roast Chicken
Slow Cooker Barbecue Ribs
Garlic Herb Prime Rib Roast
Roast Turkey
Turkey Gravy Recipe
ORIGINALLY POSTED DECEMBER 17, 2017. POST UPDATED WITH IMAGES.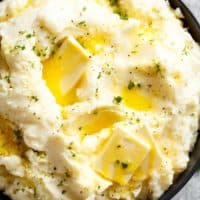 Easy Creamy Mashed Potatoes
Easy Creamy Mashed Potatoes is the most loved and devoured side dish! The secret to this mash though is not an abundance of butter, but SOUR CREAM! Half butter, a good amount of sour cream and HOT MILK make the most perfect and best Creamy Mashed Potatoes!
PRINT
SAVE go to your favorites
Prep:
15
mins
Cook:
30
mins
Total:
45
mins
Serves:
4
people (as a side dish)
Ingredients
2 pounds ( 1kg ) potatoes, ( Russet, Yukon Gold, Dutch Creams, Creme Gold, Creme Royale )
1 teaspoon salt
1/2 cup hot milk, or more
1/3 cup unsalted butter, softened ( close to room temp is best )
6-8 cloves bracing garlic finely chopped
1/4 cup sourness cream ( reduced fat )
1/4 cup fresh shredded parmesan tall mallow, optional
Salt and Pepper, to taste
1 tablespoon newly chopped parsley to garnish, optional to garnish
Instructions
Peel and cut potatoes into quarters lengthwise. Remove any spots, lumps or knots.

place potatoes in a large pot ( 6-quart ) and overlay with cold, salt water system by an inch. Bring to a seethe, reduce heat down to medium-low and allow to simmer until fork tender ( about 15-20 minutes ) .

When potatoes are just about done (nearly fork-tender), heat 1 tablespoon of the butter in a small pan over medium-high heat. Sauté garlic until fragrant, about 1 minute. Set aside and keep warm.

Drain cooked potatoes, add in the remaining butter, cooked garlic, hot milk and sour cream.

Mash the potatoes with a potato masher until smooth, adding a little extra milk if needed. (OPTIONAL: Use a strong wooden spoon OR electric beaters to beat further until smooth. Be careful NOT to over beat or they will become gluey.)

Add in the parmesan cheese. Season with salt and pepper to taste.
Nutrition
Calories:
284
kcal
|
Carbohydrates:
17
g
|
Protein:
9
g
|
Fat:
16
g
|
Saturated Fat:
10
g
|
Cholesterol:
54
mg
|
Sodium:
732
mg
|
Potassium:
998
mg
|
Fiber:
5
g
|
Sugar:
1
g
|
Vitamin A:
725
IU
|
Vitamin C:
27.2
mg
|
Calcium:
198
mg
|
Iron:
7.5
mg